About Us
A little more about our Company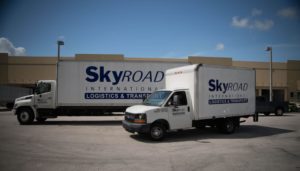 Skyroad International is a company licensed by the U.S. Department of Transportation. In our equipment we have Large Fleet Vans, trucks 24′ ,26′, 53′ Trailers.
Skyroad International, provide Logistics and Transportation. As a Logistics Solutions Provider with dedicated facilities and equipment we provide "end to end" transportation and order fulfillment services within a collaborative environment between "buyer and seller".
Our mission
Our mission is to provide complete solutions to our client's transportation logistics needs.
We do this in partnership with our customers by providing integrated logistics services to manage and distribute cargo by forming strategic alliances to meet supply chain needs and objectives.