Frequently Asked Questions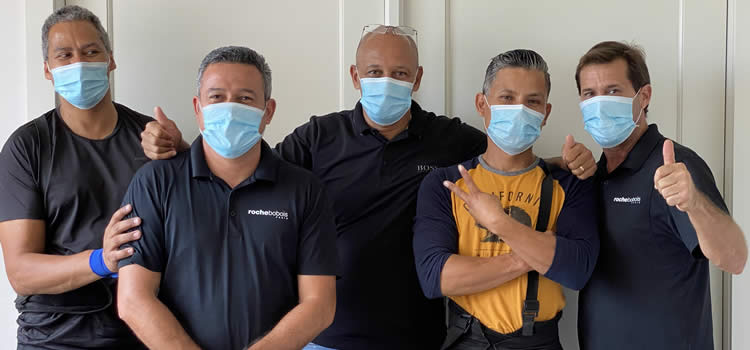 Questions about our transport services, removals, White Glove deliveries or storage?
You will find all the answers in the FAQ below!
If not, contact us: +1 (305) 686 2896 / administration@skyroad-international.com
Transport and deliveries
What types of goods can you transport and deliver?
Skyroad International can transport and deliver all types of products or goods as long as they are legal, non-hazardous, or subject to special regulations.
What is groupage in transport and deliveries?
We are committed to providing our customers with the best value for money. The principle of groupage makes it possible to group together several collections and/or deliveries on the same route, in one go, and to make transport more economical, even for a move. However, to benefit from a groupage price, customers must have some flexibility in their pick-up and delivery times, because we need time to fill the vehicle and plan the transport.
If I have goods delivered to you, can I pick them up?
Yes, you can have goods delivered to our warehouses and pick them up. This incurs handling and storage costs. Pickup is then by appointment.
What is White Glove Delivery?
Skyroad International is certified for White Glove Delivery. "White Glove" is an expression used to qualify the excellence of a service of shipping, delivery, installation or storage of goods or merchandise. Particular attention and care are taken during the delivery of the supported products. Skyroad International guarantees White Glove Delivery services to all of its services for individuals and businesses.
To find out more, read our "White Glove Delivery" or "Transport" sections
Moving Services
How far in advance should I book a professional mover?
To properly prepare and plan your move, you need a minimum of two months. But it sometimes happens that the departure must be done in an emergency, and in this case, Skyroad International makes every effort to find a solution in a short time. In the case of an international move, it is prudent to plan the project at least three months in advance, as this involves specific procedures, both in terms of preparation (packaging of furniture, reservation of a shipping container ) and administrative or customs side. Either way, booking in advance helps ensure a smooth move.
Is there a busier time of year when it comes to moving?
Yes, the holiday periods and the summer months from May to September are generally busier. If you plan to move during these times, it is strongly recommended that you book a moving company several months in advance, as availability may be limited and prices may be higher due to increased demand.
I have to move, but I don't know where to start, what should I do?
The first thing to do is to clearly define your needs during the preparatory visit with the mover, so that he can precisely explain the procedures to you according to your expectations, and establish a clear and precise quote (free) in terms of services, deadlines, costs.
Is the service offered door to door?
Skyroad International offers à la carte services. If you want door to door, it is possible, whether for a local move in Florida, in another state in the USA or internationally. For international removals, we work with local partners who take over on site for the transport and delivery of your goods to your new address.
What does the price of a move depend on?
Time and volume are the factors that primarily determine the cost of a move. Then there is the transport distance and the level of service requested by the customer. Whatever the case, our teams adapt to your needs, and take the time necessary to ensure a high quality, neat and efficient service.
How much does a move cost with Skyroad International?
Each move is a unique case because it depends on your needs, your volume of goods, the distance, and the deadlines. The price range is therefore very wide. A personalized and free estimate is proposed to you.
I have fragile furniture and valuables, how do you protect personal effects?
Packing your goods and furniture is a real skill. Our teams are trained in packaging techniques, and use specific equipment adapted to each item: cardboard boxes (standard, for glasses, for pictures), bull-pack, blankets and protective covers, wardrobes, adhesives, rolls of string, etc. . Our buildings are secured by a 24/7 remote monitoring system).
How are my personal effects protected during the move?
Skyroad International adapts to your needs and the type of move chosen, but we always recommend protecting the goods as much as possible so as not to have any unpleasant surprises on arrival. However, if you want to pack your goods yourself, that is also possible. In the case of an international move, you have to be extremely careful, properly pack and secure the furniture, boxes and objects, because the journey is long and the containers are handled several times by cranes, then transferred to the delivery vehicle.
In case of breakage, what happens?
Zero risk in terms of breakage during a move does not exist. Despite the care and attention given to your personal belongings, unfortunately, some things may be damaged. Insurance is taken in advance to deal with any eventuality, and the Skyroad International teams are always on hand to discuss compensation.
When moving, is there a maximum volume or weight?
In the case of a local move in Florida, the United States or Canada, we adapt our vehicles to your volume to be transported. We have several trucks of different sizes, which allows us to respond to all requests. For an international move, your belongings travel in maritime containers of 20 or 40 m3 (or by pallets if plane). So you can choose and fill a container according to your needs
Which products cannot be moved?
To comply with legal requirements, it is prohibited to transport certain chemical, corrosive, explosive or dangerous products. When the journey is only a few minutes or even an hour, it may seem excessive, but it is forbidden to transport any hazardous materials without having received specialized training. It is the responsibility of the carrier/driver to be familiar with the materials being transported.
I own firearms, can I leave them in my move?
If guns are stored and locked properly, it is perfectly legal for a moving company to transport a customer's guns. However, it is important to indicate this to the mover who will mention it in the estimate. There is therefore no transport problem as long as the safety instructions are respected by the customer.
To find out more, read our "Moving" section
Storage
I have to move quickly, but my new home is not ready, do you have a solution to keep my furniture?
Yes, Skyroad International offers storage solutions in its warehouses for transitional periods, depending on your needs in terms of volumes or deadlines. In this case, we need to assess what you want to store and give you a quote.
What are the costs to store goods or furniture at Skyroad International?
The costs are variable, and calculated according to several criteria: volume or size of the goods, type of storage desired, insurance taken out on the goods, duration of the rental, etc. Storage costs are paid monthly, or if applicable, prorated to the number of days of storage.
How do you store the goods in your warehouses?
For the goods, we generally store on pallets and use protective plastic films to hold the goods in place. If it is furniture in the context of a move, we offer traditional furniture storage and we store our customers' personal effects in new individual boxes for optimal preservation during storage. Our premises are equipped with surveillance cameras and access to your goods requires an appointment.
If I store goods or personal effects in your warehouse, what happens with the insurance?
Insurance is essential when it comes to renting a space or furniture storage. You must first check whether your home or professional insurance covers goods or merchandise stored in an outdoor location. Otherwise, you must take out additional insurance to obtain this protection.
How do I get my property back?
Just give us a few days notice when you want to vacate the premises. We then proceed to plan the withdrawal of your goods or merchandise. We can of course deliver them.
What is the point of storing the goods of my activity at Skyroad International?
Outsourcing the storage of goods frees your company from warehousing or distribution logistics tasks, and concentrates on its core business. This also makes it possible to efficiently manage its stocks of goods, its archives according to storage needs, and to control costs.
To find out more, read our « storage » section
For more information or a quote, contact Skyroad International:
+1 (305) 686 2896 / administration@skyroad-international.com